February 4th, 2015
Autumn view from the Cress Creek Preserve. Idaho is my home state and sometimes I can receive a little bereavement from residents when I travel and work in other states or regions. I think for the most part though people do understand what it takes to make a living at this and then of course there is the added benefits of exploration and adventurous travel. Still, it's always a pleasure to represent Idaho when I can, after all it is home and without question, a great place to live.
February 28th, 2013
Capturing the grandeur of a large landscape scene can be one of the most difficult challenges. Far to often the magnificence is lost when rendered on a small two dimensional plane. A lifetime is spent in search of ideal conditions along with beautiful light that might, among other things, create the illusion of a three dimensional space. This clearing storm in Zion National Park of southern Utah was just such an opportunity. I refer to it sometimes as the attempt to do a landscape justice. When the conditions are right, everything has to be done correctly in what can be a very short period of time. Over the decades I've missed far more opportunities than I've been successful at. It's the nature of the game and the learning process.
December 18th, 2012
Recently, while giving a talk, I was ask: "What makes your photography better than others"?. The question caught me a bit off guard because I don't think in terms of being better than others. For me its about sharing a vision and maybe along the way if I could raise awareness, that would be a positive contribution. So I just do what I can and it's gratifying to learn when I have helped someone gain a better appreciation of our brief moment in the sun.
March 31st, 2011
The Cress Creek Nature Trail and preserve in east Idaho is becoming increasingly popular. The BLM has so far procured about 24 million for land easements, trail and bridge work at this site using my work in slide shows. It's a nice place to go for a hike, is less than an hours drive from Idaho Falls and the trail offers great views of the Snake River. Cress Creek itself is a wetland and spring on the side of the mountain with nice cascades and Cottonwood trees.
March 24th, 2011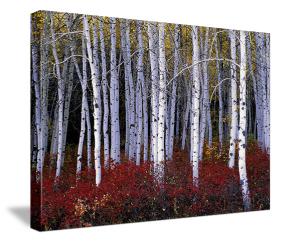 Over the years I have had the opportunity to visit hundred's of businesses large and small involved in about everything you could imagine. An unbelievable amount of corporate money is spent creating structures for people to conduct business or whatever in. Humans are expected to create, work and generally function at their best in the interior environments of these buildings. What I find disturbing is how often so little attention is paid in creating a healthy, stimulating and inspirational interior space.

Here is a simple yet often overlooked reality. Art has an effect on us. Just about any industry that requires people will benefit greatly if they pay attention to this basic principle. Investments in wisely chosen artwork can result in a much more productive, healthy, competitive and spirited group of individuals. There may even be fewer sick days and people tend to get along with each other better when surrounded by expressive and moving works of art.

A large business might spend multi millions on a structure to house a work force and then cover the walls with cheap and even faded images on poster paper under the guise of cost savings. Believe it or not, I've seen this happen in hospitals where art could be of enormous benefit. It makes no sense. In the past I have seen so many offices, work areas etc. that are depressing and one could even describe as painful to enter. When I require a service, I do what I can to avoid these places and I know others do the same. Imagine the effect it must have on employees who have to spend what could be a fairly large portion of their life in a place where what makes us human is denied.

What a difference a relatively small investment can make. It didn't bother me waiting for help in my local cell phone providers building - Edge Wireless. There were a least a few nicely produced landscape works on the walls that I enjoyed looking at. It's obvious that the marketing agents for Edge Wireless decided on what they see as remote landscape art to promote their signal coverage. I kind of doubt they realized the other positive effects this display would produce.

Some corporations have realized how important the arts are when designing an environment to house people. It seems to happen more often in larger population centers and resorts. There really isn't a valid reason why this happens more in these areas, most organizations can realize the benefits regardless of location, regional culture or attitudes.

Art is not something we live with; it's something we can't live without.

Leland Howard

August 24th, 2010
Knowing what to photograph by Leland Howard

Knowing what to photograph is similar to the process involved in other mediums. How does a painter know what to paint or how does the musician know what to play? Mostly it's what moves you in some way. Photographically if you care about the subject it will show in the work.

Of course conditions, weather and assignment contracts play a big role. If I'm not under a contract obligation then experience that allows for hopefully maximizing opportunities comes into play. However, explaining the requirements for knowing where and what to photograph might perpetuate the common myth that once in a location, the tool (camera) does the work.

Take for example your cold winter day with a sky full of stars and sparkling snow. What can the artist create that will do this justice? Remember how you felt looking at that scene. Did you wonder if it was possible to create something, a piece of art, which would make a viewer feel something similar?

An artist may never be able to do nature justice, but some gratification can be found in the challenge. Occasionally an image might be created that at least can be described as worthy.

I'm never completely satisfied with an image. If I were, this could indicate a point of stagnation and one thing an artist must do is continue to grow. I can say I accomplish what is necessary, especially when under contract, but otherwise the goal is never so concrete that would allow me to say that I accomplish what I set out to do. There are to many variables. Sometimes I'm able to create something better than what I was visualizing for an area simply due to conditions like the quality of the light or the balance of a scene. Other times (far to many) the opposite is true.

Here is something to think about. Instead of calling it taking pictures, try calling it creating an image or painting with light. You're not taking anything and all you are recording is light - all we see is light. Objects, color and contrast become apparent because of how light reacts with the elements in an environment.

I don't always know where to go but educated guesses are very helpful. Since I specialize in wilderness, seasons play a role. Then simple things can also help like topo maps. By studying the terrain on a map, I can often tell what areas would have the most potential in different light conditions. Also I will often travel to the same area many times over to learn it and get a feel for when conditions might be right.

Having said this I can tell you that it is also fun to just hit the road and see what I find. Many times I don't where I will end up. This is good feeling, I guess it's freedom. I can burn sometimes and find myself having to stop due to exhaustion in a place that's nothing to write home about but I live for the times I come upon a spectacular place. I've seen some amazing things in my life and very often there're not in the most famous places.